We Do Rubber Roofs in Cedarburg, WI
Thinking about a rubber roof or need some repair work done? Cedarburg Roofing Pro's is standing by! 
Five Reasons You Might Consider Going With A Rubber Roof If You Work In Cedarburg, WI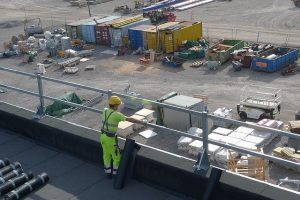 Is the roof of your business in bad shape? You must have a strong roof so that it protects you, your family and all your valuable belongings.
Are you considering changing the roof of your property? If yes, then you must consider getting a rubber roof this time.
The growing popularity of rubber roofs
When talking about their styles, there are several types of roof that you can choose from. Rubber roofs are growing in popularity all over the United States especially in Cedarburg, Wisconsin. If you have had any other type of roof, you must consider getting rubber roofing this time. It is not only a popular roofing option, but it is an affordable one too. Getting rubber sheets as a part of your roof would mean a strong roofing option that will last for years.
Benefits of going with a rubber roof
#1 Rubber is versatile
Some people do not like the idea of having rubber on top of their structure. They assume that having a rubber roof means having boring, black rubber pieces. However, the truth is that there are rubber tiles available in different colors to suit the needs of different business types. If you do not like the ugly, black rubber then you can choose from one of the many available colors for your dwelling place.
#2 Rubber is strong
The best thing about rubber roofing is that they are made good quality rubber that is strong and durable. You can expect the roof to stay good for a long time to come. If there are any problems, you can call a roofing expert in Cedarburg, WI and they will fix the problem.
#3 Rubber stops water
Another great advantage of having rubber as your roof is it will prevent water from leaking in your workspace. The rubber sheets are properly installed by expert roofers which ensure that not a single drop of water falls into your place of business. If you choose to install rubber tiles over your roof, you must ask the roofer to seal the joints properly. However, if you hire us for the installation job, you would not have to worry even a little as our professional roofers take care of everything.
#4 Rubber bears all
When you buy good quality rubber sheets, you can be assured that it will stay good in extreme weather conditions – be it sun, rain, and snow. The rubber roof will also help to insulate your commercial property which will help lower down electricity costs.
#5 Rubber is eco-friendly
If you are always looking out for ways to contribute to the environment, it can never be a better option than to choose rubber as the roof of your small business. Most of the rubber sheets used for roofing purpose are made from recycled materials. So, you are killing two birds with one stone. On one hand, you are able to enjoy all the benefits of rubber roofing and on the other hand, you get to help make the world a better place.
Are you a Cedarburg business that needs Rubber Roofing work Done?
If you would like to know more about rubber roof or want to know how much it will cost to get it for your business, feel free to contact Cedarburg Roofing Pro's right away. We will be glad to assist you in replacing the old roof of your commercial property or business with a new one.