Profession Commercial Roofing Contractor Serving Cedarburg, WI
We help you take care of your business.
Helping Cedarburg, WI Business Owners With Their Roofing Needs
Commercial roofs play an important role in deciding the building's exterior appearance, as well as in safeguarding the building's interiors in all weather conditions. You could be constructing a new commercial constructing for your company, or you intend to fix or partially or fully rebuild your current roof, you may need to employ the services of an experienced and licensed commercial roofer. Cedarburg Roofing Pro's have already repaired/installed roofs on hundreds of businesses and hire a highly professional workforce equipped with the latest tools and equipment to provide true artistry to customers.
Types of Commercial Roof Systems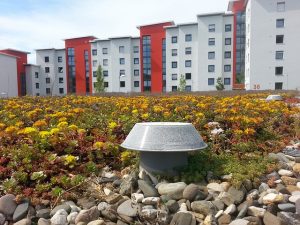 Every commercial building is designed in a way keeping in mind the nature of the business it is built for. There are four types of roofing materials commonly installed commercial roofing systems, EPDM Roofing, Photo-voltaic Solar Panels, Green Roofs, and Thermoplastic Roofing. Each commercial roofing has its advantage, and you can choose any of the above materials depending on your budget and preference.
Photo-voltaic solar panels are the best option for those who want to lower down energy costs and also conserve the environment. They are used to convert sun rays into electricity and supply into the commercial building. Thermoplastic is the commonly used roofing materials in commercial buildings. This is because it's highly durable in all types of weather conditions offering the value for your money. If they are well maintained, thermoplastic roofing materials can last up to 20 years. EPDM is easy to install and also to maintain. Its affordability and durability make it a favorite choice for anyone looking for a reasonable yet affordable roofing solution. Green roofs are covered with grass and all type, thereby improving the roof's insulation properties. It also helps in lowering heating and cooling costs.
Asphalt roofing is often used in commercial applications and is often applied to flat or semi-flat roofs that have good access and adequate drainage. The advantage of asphalt is that it is less costly than other roofing materials, and it holds up relatively well when applied correctly. The method results in a roof that is not very attractive, although it is frequently covered with a sheet of decorative stone to enhance the appearance.
A couple more common roof systems that we tend to use with Business owners in Cedarburg, WI are:
Both of which usually require a sealant which can protect it.
Choose a Commercial Roofer you can count on!
Cedarburg Roofing Pro's offers industry-leading services in Re-roofing, emergency leaks, and fast repairs. We have been taking care of businesses for a number of years, and we will do all that we can so that you can feel confident when you are going to utilize and show off your building. We want you to excel and feel confident with whatever you're going to do with your business, so give us a call to learn how we can get you to meet your goals in a way that's going to matter and help you achieve them. Schedule an on-site roof inspection Today in your Cedarburg, WI commercial property.